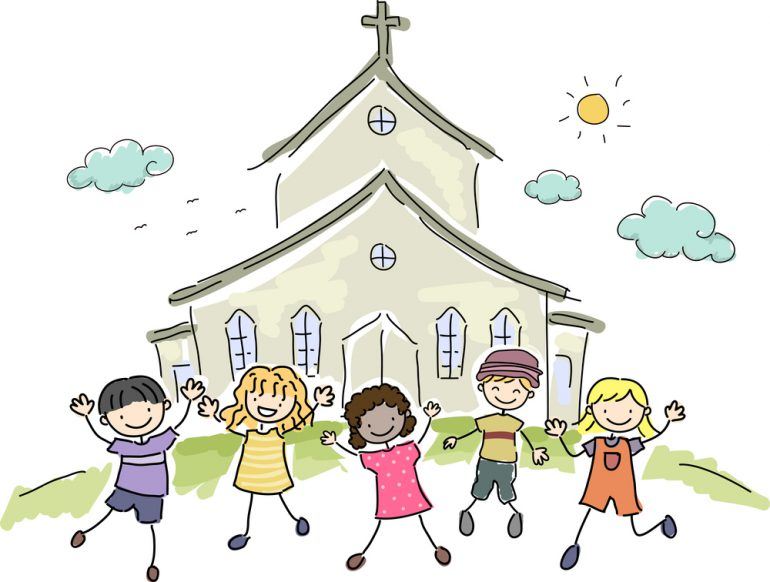 Today there are a lot of schools to choose from. In fact, the choices are so many that it can easily confuse any parent or guardian.
Keep in mind that each school has their own set of philosophies that govern how they teach. And, this can have a big impact on the educational, emotional and spiritual development of a child.
In this article, we are going to share the top benefits of a Catholic education. We hope that this will make it easier to decide what is right for your child.
A Spiritual View Of The World
Catholic education not only teaches general education, but also balances education with deep spiritual immersion. Catholic education is very active in teaching a child that God is in their life and all around him/her. A child will learn how to see these "footprints of God" in their daily lives. As a child's awareness of God develops, he or she also becomes an instrument of God's grace in the family, community and in the world.
Inspired View Of The Scriptures
A Catholic education means giving a student the opportunity to learn about the holy scriptures. Furthermore, the learning of the scriptures is governed by underlying faith. Then, the students are encouraged to put into their daily lives the lessons they have learned from the good book. On top of that, a Catholic education teaches a student on how to make use of the scriptures as a tool for guidance and inspiration to get them through during the toughest parts of his/her life.
Civic Responsibility And Engagement
Catholic education not only focuses on engagement and responsibility in relation to the church, but also to the community as a whole.
According to a survey done by a non-catholic and non-American source, the study suggested that students coming from private school are the least to engage in civic engagement. On the other hand, the study indicated that students from Catholic education ranked highest in terms of participating in community and civic engagement. This could mean highest in terms of charity donations, writing to legislators, volunteering, and voting.
Most of these Catholic education graduates are not doing it for themselves (e.g. tax write-off), but rather for a sense justice and responsibility.
Value Of Service
Another fundamental of having a Catholic education is the idea of service. Catholic education puts a lot of focus on service, and that is why there are service programs running from kindergarten up to the 12th grade. Some schools even have service programs that may reach to levels of undergraduate and graduate.
Catholic education values in God's word that states, "you are your brother's keeper". Hence, Catholic students are always taught to be sensitive to the needs of others, and respond positively in any way they can.
Discipline
Catholic education puts a lot of emphasis on self-discipline. Students are educated and challenged to make decisions and actions that are considered Christ-like; not only in actions, but also in words. Catholic students are taught on how to gauge their words and actions against the Gospel of love and the Ten Commandments.
Of course, Catholic students are given lessons that will give them a strong moral and ethical foundations to help them make the right decision during situations that are not clearly black and white.
Catholic students are encouraged to be good because to avoid punishment, but for the reason that it's the dignified way to act.
Arts And Culture
Our civilization has moved from the stone age to an age rich in culture, arts and tradition. Catholic education recognizes the fact that modern society is not just all about surviving, but it's also being cultured.
This is the reason why Catholic education exposed the students to Drama, Literature, Art and Music. Furthermore, all these are governed by the philosophy that these are all divine praises.
Goal Setting
During these competitive times, it's easy to fall into the trap of setting goals that are self-serving and empty. Catholic students are taught that academic or monetary excellence is not the ultimate goal. However, what is taught is having goals that are altruistic in nature. Catholic students are taught to set goals that do not only serve themselves but also benefits others. In such a way, they not only improve their lives, but also the lives of the people around them.
Safe Environment
Catholic education recognizes the importance of the effects of the environment on a child. This is the reason why Catholic schools make a great deal of effort to make the school environment as "Gun-free zones" or "Drug-free zones" as possible. Furthermore, catholic schools shift the environment to a more "Christlike zone".
Passionate Instructors
In most schools, the teachers see their works as merely a job. They get in, punch in, do what they are paid for and punch out, and nothing more. This rarely happens in a Catholic education.
The Catholic education system puts a high priority on teachers that are passioniate about "Chris-centered education". In a Catholic education, it's not uncommon for teachers to go "beyond the call of duty" to help the students in terms of growing their values, skills and knowledge.
Minority-friendly Atmosphere
Being a minority has its downsides. For one, there is the trouble of fitting in and being recognized as "normal". Minority kids will usually have some problems when obtaining education from a public school. This is something that rarely happens in a Catholic education system.
One of the fundamental beliefs of Catholic education is the belief that all people are equal, and it's not race nor financial status that defines one's value, but rather words and actions. This belief reflects in the school environment. This is one of the reasons why, according to surveys, minority students perform better in a Catholic education compared to a public school education.
Conclusion
Not all education systems are made equal. Each school or educational system has its own principles and philosophies that govern how they teach and develop a child. Having said that, a Catholic education system has been proven in time, surveys and studies to offer advantages compared to other forms of education systems. In fact, the many benefits of a Catholic education mentioned above are just the tip of the iceberg.